The state of customer-centricity in Nordic B2B companies - strategies and visions revisited
We went through the strategic documents of 20 Nordic B2B companies and researched the role of the customer in them. It was a delight to see that the customer has a strong position at the heart of the growth, at least in the strategic targets. This post will share the highlights of nine different B2B companies and their strategic targets.
Customer centricity is driving sales in B2B
McKinsey´s research has found that B2B companies that successfully master digital transformation have 8% more shareholder returns and five times more revenue growth than their peers (1). McKinsey states that improving the end-to-end connection of processes and creating a consistent experience for the customer are essential pillars of success to reach that growth.
What is the state of customer-centricity in B2B strategy and vision documents?
Knowing that customer centricity and improving customer experience should be the most important spearhead project in B2B at the moment, it was great to see that the B2B companies have lifted their customers to the core of creating growth:
1) Solving customer problems and creating value for the customer is a top priority
2) Their customer base, advanced analytics, and strong brand provide a basis for growth
3) Excellent customer experience is a must-win battle
4) Marketing and sales renewal is one of the ways to win
5) Lifecycle optimization and agile ways of working support growth
6) Customer collaboration is essential
Below here we'll share the highlights of nine different B2B companies and their strategic targets to give you a better understanding of how the customer is taken into consideration.
Metso Outotec puts their customers at the center
Metso Outotec aims to be their customer's first choice, and, as can be seen in their values, they are putting the customer at the heart of their business (picture 1). They mention a strong brand and customer base as their strengths, and their customer focus shines through as they present their products and services to clients. They have clearly stated the benefits and thought them out from the customer's perspective (picture 2). (2)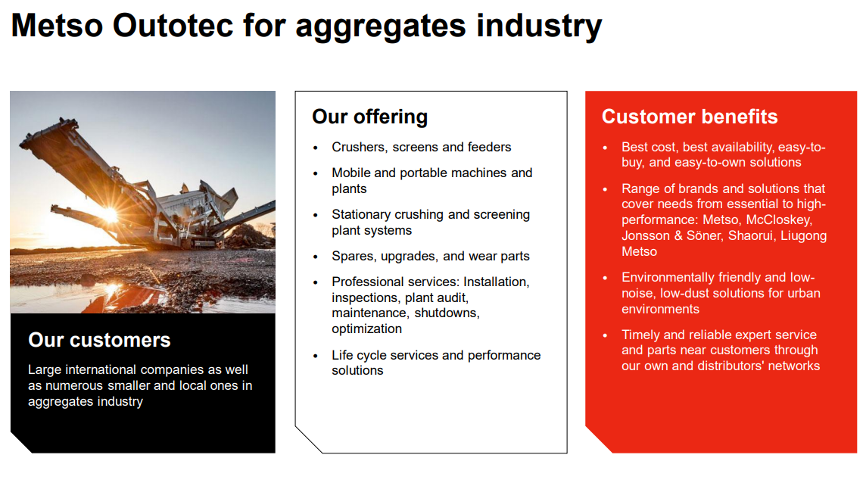 Sandvik wants to improve customer value and satisfaction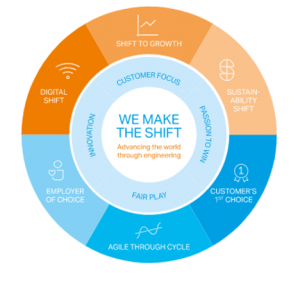 Sandvik states: We make the shift – advancing the world through engineering (picture 3). They say they are forward thinkers, driven by their passion for innovating smarter solutions and enabling important shifts.
One of their core values is customer focus, and Sandvik approaches this by being agile, decentralized, and making decisions close to customers. They aim to be the customer's first choice. Across their organization, Sandvik wants to advance the way they measure and improve customer value and customer satisfaction. By 2025, Sandvik wants to track their customer satisfaction improvements through structured methods and show continuous measurable progress.
Caverion states that excellent customer experience is their must-win
Caverion states that excellent customer experience is one of their must-wins (picture 4). They aim to build a strong service and sales culture to deliver superior customer experiences and increase customer loyalty. Caverion recognizes that they are going through a transformation process (picture 5) affecting their operating model, making it more customer-centric to enable improved adaptation to changing customer needs.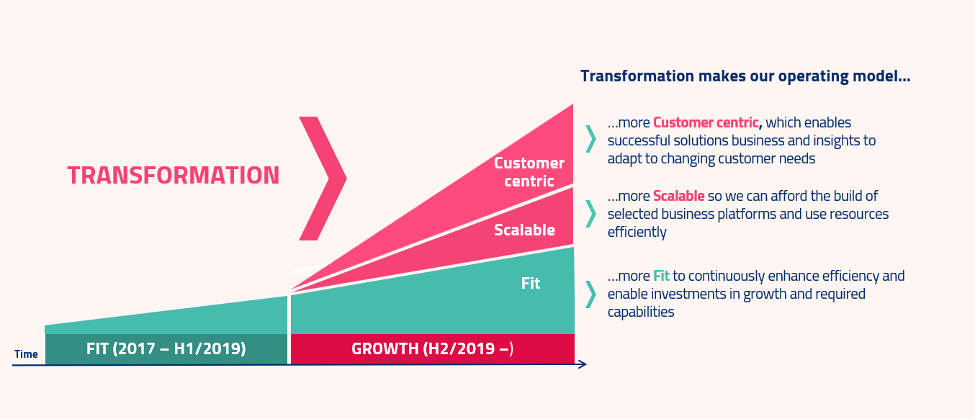 KONE aims to create sustainable success with customers
KONE has identified five strategic inputs (picture 6) crucial in creating value for customers, shareholders, and society. These are:
1) competent and engaged people and strong leadership,
2) innovative offerings and global processes and systems,
3) the best partners,
4) an efficient manufacturing and delivery chain as well as
5) a strong brand and solid reputation.
KONE states that having the most capable and engaged team of professionals who succeed in a changing world is a crucial key enabler. In our dynamic world, leveraging Lean skills, practices, and leadership to eliminate waste and ensure continuous improvement is important. KONE mentions marketing and sales renewal as critical parts that create a seamless, unified customer experience across multiple channels.
Valmet's vision is to become the global champion in serving its customers
Valmet's vision is to become the global champion in serving its customers (picture 7). They want to move their customers' performance forward with Valmet´s unique offering. They consider customer excellence as one of their must-wins. Valmet's customer promise is 'Forward.' This reflects their commitment to promoting their customers' success and to developing innovative solutions for the future. For Valmet moving forward means renewal and that their business operations enable sustainable results. (6)
                          Wärtsilä targets to create customer value through collaboration and knowledge sharing
Wärtsilä plans to answer the needs of their customers with an integrated portfolio of services, systems, and products that cover customer needs across the whole lifecycle positions (picture 8). They state that connectivity and intelligent technology play a key role in optimizing assets and providing strategic input to customers to enhance their business growth. Wärtsilä sees customer value creation through collaboration and knowledge sharing as key components in their innovation activities.
Cargotec considers customer collaboration as one of the ways to win
Cargotec wants to solve customer challenges in climate change and sustainability (picture 9). They seek growth from extended service offerings and lifecycle services. Cargotec mentions working closely together with customers as the key to become the global leader in sustainable cargo flow. Close customer relationships and smooth collaboration are key differentiators that make them stand out from their competition.
UPM wants to meet the changing needs of its customers
UPM's biofore strategy drives their transformation (picture 10). UPM states that meeting the changing needs of  customers is one of the most essential factors of driving growth. Agile operating models and continuous improvement are the cornerstones of performance, but innovation also plays a massive role in creating growth.
Oriola creates value for their customers through the entire healthcare value chain
There is no doubt whether a customer is at the center of Oriola's strategy or not. Customer focus and superior customer experience are stated as the first strategic goal of Oriola (picture 11). It can be seen that Oriola understands that the success of their customers' business is also at the heart of their success. Data and analytics are the building blocks of modern growth, and in their material, Oriola states that loyalty and profitability can also be increased with these enablers. In picture 12, Oriola describes how they can serve their customer through the entire value chain, supporting the success of their customers.
In many cases, understanding and serving the customer is placed in the core of success. We aim to serve the needs of our customers, but we very rarely have a coherent view of them and too often we haven´t got a clue of our strategic data and analytics needs in order to gain enough customer insight. If you're still missing a clear roadmap for your strategic data needs for marketing, sales, and customer experience, now would be the perfect time to draw it up to support the customer centricity of your company. To become customer-centric, you have to have real-time customer insights at hand to support your decision-making.
Liked this post? Share it with your friends